As renovations to Oxbow continue, Belle & Wissell crafted a bold, hand-painted mural for the main building's exterior. Visitors approaching from the north end of the street, as well as from the Interstate 5 onramp, are greeted by the painting. The abstracted typographic mural is intended to generate curiosity for Oxbow's cross-disciplinary offerings, while marking Oxbow as a place for artistic expression. Oxbow began its artist-in-residence program in Fall of 2016, with plans for continued site-specific visual art and diverse community events.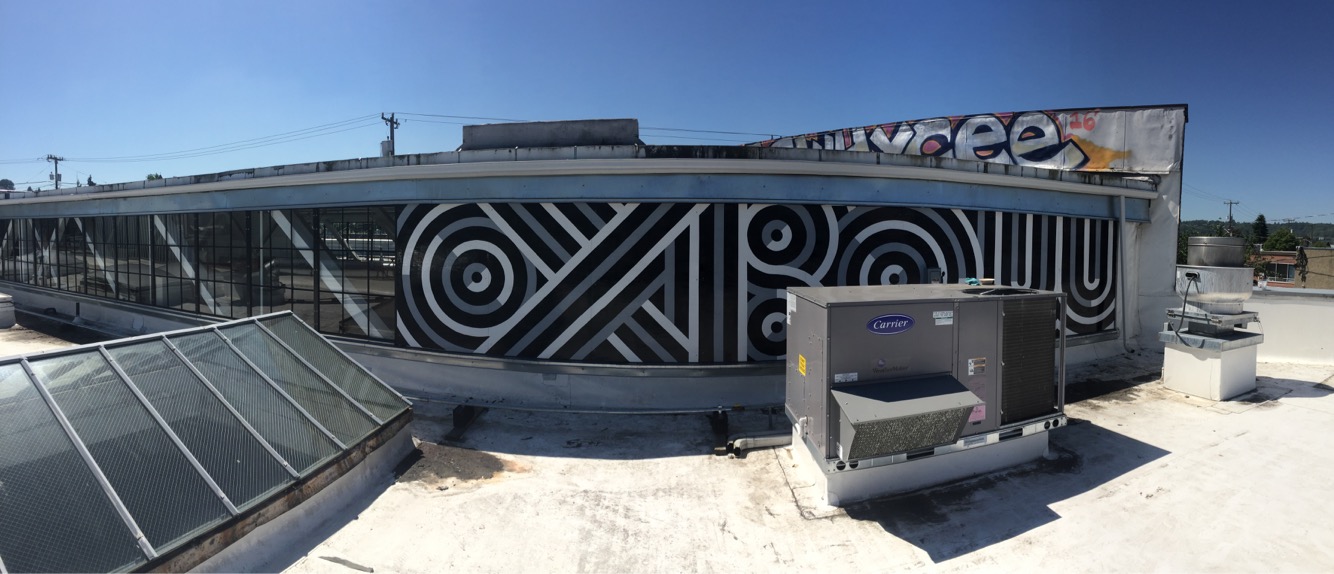 Eric Harvey, Belle & Wissell's Art Director, designed the graphic mural; Izzi Vasquez, a Belle & Wissell designer and past apprentice in hand-painted signage, led its execution. The composition was stenciled and hand-painted onto plywood panels. It is now installed on the north side of Oxbow, on the exterior of Belle & Wissell's new studio mezzanine space.
With over 10 years of business under its belt, Belle & Wissell has recently purchased a cluster of three historic buildings  (in partnership with exhibit fabricator Lockwood & Sons) in Seattle's Georgetown neighborhood for adaptive reuse. These buildings are being collectively redeveloped under an umbrella vision called Oxbow.
The property will include ever-evolving spaces for experimentation and collaboration. Oxbow will host and present installations, performances, workshops, films, lectures, and gatherings. Belle & Wissell will have an expanded facility which will include its design offices and an improved environment for prototyping its client and self-initiated projects.
Oxbow will also include a public event and installation space, a fabrication shop for design-build company Lockwood & Sons, accommodations for an artist-in-residence, and plans for adjacent restaurant and retail spaces. Oxbow's redevelopment project team includes architect Jay Deguchi of Suyama Peterson Deguchi, H. Dufour Construction, and Lockwood & Sons.
Stay tuned for updates and announcements. Phase 1 construction is expected to be complete by early 2015.
Belle & Wissell's studio has always been at home in Seattle's Georgetown neighborhood. Georgetown has a rich and exciting past that can be explored through a vast photographic slideshow (assembled from Seattle's deepest archives).
View slideshow on seattlepi.com
Belle & Wissell, Co. invites you to "Future", a storytelling installation and holiday party where time moves fast-forward.
"Future" Installation and Holiday Party
(part of The Georgetown Art Attack)
Saturday, December 12, 7pm
at Belle & Wissell, Co.
6014 12th Ave South
Seattle, WA 98108 (directions)
Come experience the next installment of The Story of Belle & Wissell and their adventures through time. Featuring our animated holiday window display and an activity to send a postcard through time. Also, be sure to get your picture taken with Mr. Wissell, Belle, or both.
This event will be fun for young and old!
Hundreds turned out for our opening event on December 13th. We've included some photos that captured this memorable occasion… Story Kits available at our Etsy store.
"The Story of Belle and Wissell: How It All Began"
Story Kit and Window Display Unveiling Party, Saturday, 12/13 at 6pm
You're invited to a special event on Saturday, December 13th at 6pm: the first public exhibition of The Story of Belle and Wissell, featuring original illustrated characters, "Belle" and "Mr. Wissell," and the beginning of their time travel adventures.
Working closely with collaborating artists, the studio designed a one-of-a-kind, limited-edition Story Kit, which includes original Belle and Wissell artwork and artifacts, and a Window Display exhibit (in collaboration with artist Sven Sundbaum).
Contributing artists, Steven & Carmela D'Amico (creators of the "Ella" books), and live characters (Belle and Mr. Wissell) will be in attendance to greet you.
Signed limited-edition Story Kits will be available for purchase at the event.
Belle & Wissell, Co.
6014 Twelfth Ave South, Seattle, WA 98108 (in Georgetown)
206 322 7908 or visit us at: www.bwco.info
Postcard image:

These are two views of 6014 12th Ave South. One was taken in early 2006 before we took over our current studios. The other was taken last week.
It's always fun to look back at what was here before us. The Belle & Wissell studio of today occupies the same space as Manzo the Tailor (first photo below) in the Julius Horton Building. You can also see a small bit of the Julius Horton House next door. Julius' brother Dexter Horton's bank is around the corner (now Georgetown Records and Fantagraphics Books).
The Horton House, and many other buildings in these photos were removed when Interstate 5 and entrance-ramps were added to the neighborhood in the 50s. Bummer.
These photos were taken as part of the WPA (Works Progress Administration), attributed to the New Deal in the mid to late 1930s. Learn more about Georgetown history at historylink.org